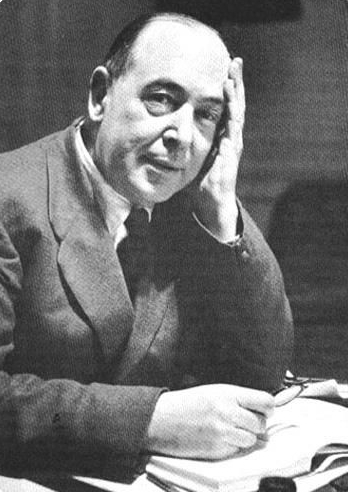 If evolution is true, is Christianity false?  Were Adam and Eve real people or mythic figures?  Are we fallen bearers of the divine image or just adolescent animals?
In previous posts we have explored C.S. Lewis' views of Scripture in general (here and here), and his view that Genesis 1 is ancient mythology in particular (here and here).  Now we turn to Lewis' take on Genesis 2 & 3, and the Christian doctrine of the Fall, subjects which he treats at length in the fifth chapter of his book The Problem of Pain.
Lewis makes it quite clear that he takes the Eden story, as he takes the first chapter of Genesis, to be sacred mythology.  It is worthy of reverence, contemplation, and theological reflection but is not, in his estimation, strictly historical.  It narrates deep truths about the human condition but not necessarily historical facts about the first humans.
The story in Genesis is a story (full of the deepest suggestion) about a magic apple of knowledge; but in the developed doctrine [of the Fall] the inherent magic apple has quite dropped out of sight, and the story is simply one of disobedience.  I have the deepest respect even for Pagan myths, still more for myths in Holy Scripture. I therefore do not doubt that the version which emphasises the magic apple, and brings together the trees of life and knowledge, contains a deeper and subtler truth than the version which makes the apple simply an solely a pledge of obedience.  But I assume that the Holy Spirit would not have allowed the latter to grow up in the Church and win the assent of great doctors unless it also was true and useful so far as it went.  It is this version which I am going to discuss, because, though I suspect the primitive version to be far more profound, I know that I, at any rate, cannot penetrate its profundities.
Whatever its theological profundities, though, Lewis is clear that Genesis 2-3 is probably not a straightforward narrative of historical events.  "What exactly happened when Man fell, we do not know," he later writes.  "We have no idea in what particular act, or series of acts, the self-contradictory, impossible wish [to be our own masters] found expression.  For all I can see, it might have concerned the literal eating of a fruit, but the question is of no consequence."
What, then, is of consequence, we might ask?  The real story of the Fall, says Lewis, is not the surface narrative about "the magic apple," but rather the depraved condition of humankind:
According to [the doctrine of the Fall], man is now a horror to God and to himself and a creature ill-adapted to the universe not because God made him so but because he has made himself so by the abuse of his free will.  To my mind this is the sole function of the doctrine.
You might call this the "Mere Depravity" view of the Fall.
Throughout the chapter Lewis displays a remarkable degree of comfort with evolutionary accounts of human origins.  But for Lewis evolution is no real objection to the Christian doctrine of the Fall, or, at any rate, to the Fall taken as mere depravity.
Many people think that this proposition [that we are fallen creatures] has been proved false by modern science.  "We now know," it is said, "that so far from having fallen out of a primeval state of virtue and happiness, men have slowly risen from brutality and savagery."  There seems to me to be a complete confusion here….  If by saying that man rose from brutality you mean simply that man is physically descended from animals, I have no objection.  But it does not follow that the further back you go the more brutal–in the sense of wicked or wretched–you will find man to be.
Lewis goes on to note that the categories of virtue and vice simply do not apply to the animal kingdom–and therefore not to our pre-human ancestors either–because animals as such are not moral agents.  Moreover, Prehistoric man is not to be presumed to be altogether reprobate simply on account of using only rudimentary tools and the like.  Being primitive ought not be confused with being sinful.  Who knows?  Perhaps, the first bearers of the divine image were more like neanderthals than like modern humans?
I do not doubt that if the Paradisal man could now appear among us, we should regard him as an utter savage, a creature to be exploited or, at best, patronised.  Only one or two, and those the holiest among us, would glance a second time at the naked, shaggy-bearded, slow spoken creature: but they, after a few minutes, would fall at his feet.
It should be born in mind, too, that Lewis' mere depravity view of the Fall does not commit him to a historic first human pair going wrong at an easily identifiable moment.
We do not know how many of these creatures God made, nor how long they continued in the Paradisal state.  But sooner or later they fell.
All that matters for Lewis is that God made humans (perhaps via evolution, perhaps not) and that we humans have gone quite wrong–so wrong, in fact, that it is beyond our powers to repair ourselves.
I will have more to say soon about Lewis' account of the Fall, but I am curious as to your thoughts.  Is mere depravity a sufficient account of human fallenness?  Why or why not?  For my part, I think Lewis demonstrates that whether such an account is ultimately satisfactory or not, it ought to at least be considered a legitimate evangelical theological option.
In any case, if you're a Christian who's beginning to think that Genesis 2-3 isn't "historical" (whatever that means) or that evolution might be more than "just a theory," fear not.  You're standing with C.S. Lewis, the dean of modern Christian apologists and one of the best Christian thinkers of the last century, and that's not so bad.